EZC Series Moulded Case Circuit Breaker
Application:
EZC series moulded case circuit breaker is one of breakers which adopts international advanced design,manufacture technology
to develop. The rated insulating voltage is 500V,suitable for AC 50Hz(60Hz),rated working voltage 500V or below,rated working
current is 15A TO 250A of circuit and use in distributiong electric energy.The product conforms to OEC60947-2 standard
Product performance characteristic description :
1, 15~630A, 5 plants the shell electric current rank
2, Compact NSD and EasyPact NSD are 3 extremely stationary types
3, Compact NSD biggest 36kA? K/The F two kind of minutes break ability
4, EasyPact NSD biggest 50kA? E/The M two kind of minutes break ability
5, Below 250A is thermomagnetism trip, the 400/630A distributor rotor trip, provides the overload
6, VigiCompact the NSD highest electric current specification to the 250A, 3/4 stationary type,
7, The trip with reports to the police does not trip two kind of functions
8, Leakage protection movement threshold value 100, 300, 500 mA 33 adjustable, operating time 200mS fixed not adjustable.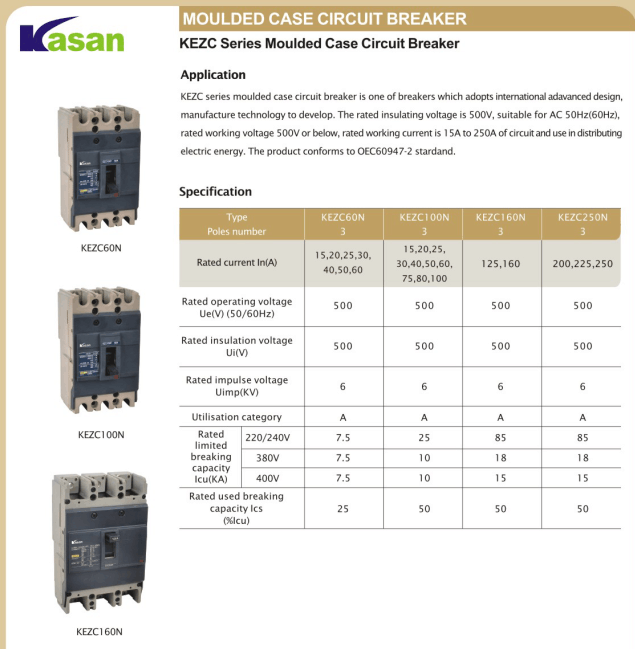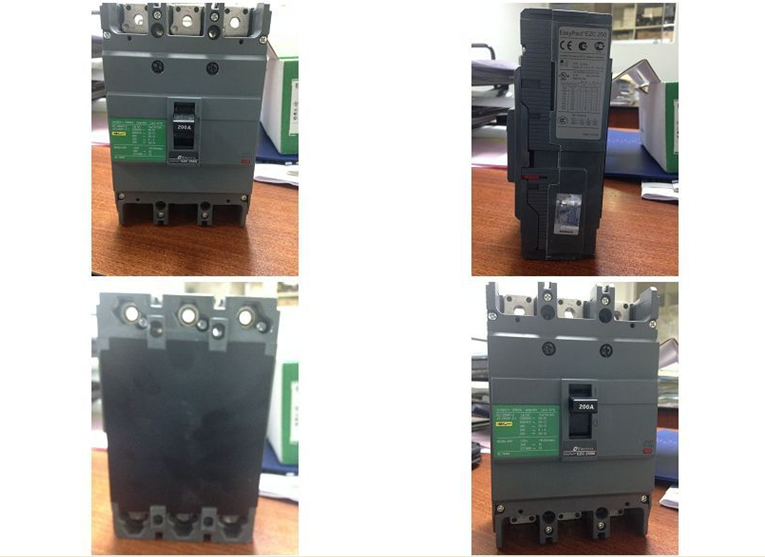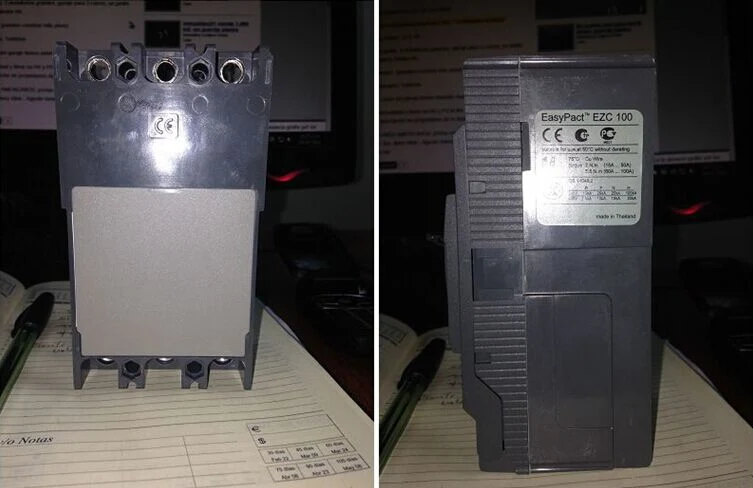 Type

EZC 60E

EZC60B

EZC100D

EZC160D

Poles number

3

3

3

3

Rated current ln(A)

15,20,25,
30 40,50,60

15,20,25,
30,40,50,
60,75,80,100

15,20,25,
30,40 ,50,
60,75,80,100

125,160

Rated operating voltage
Ue(V) (50/60Hz)

500

500

500

500

Rated insulation voltage
Ui(V)

500

500

500

500

Rated impuse voltage
Uimp(KV)

6

6

6

6

Utilisation category

A

A

A

A

Rated limite breaking capacity lcu(KA)

220V/240V

7.5

25

25

85



380V

7.5

10

18

18



400V

7.5

10

15

15

Rated used breaking capacity lcs(%lcu)

25

50

50

50