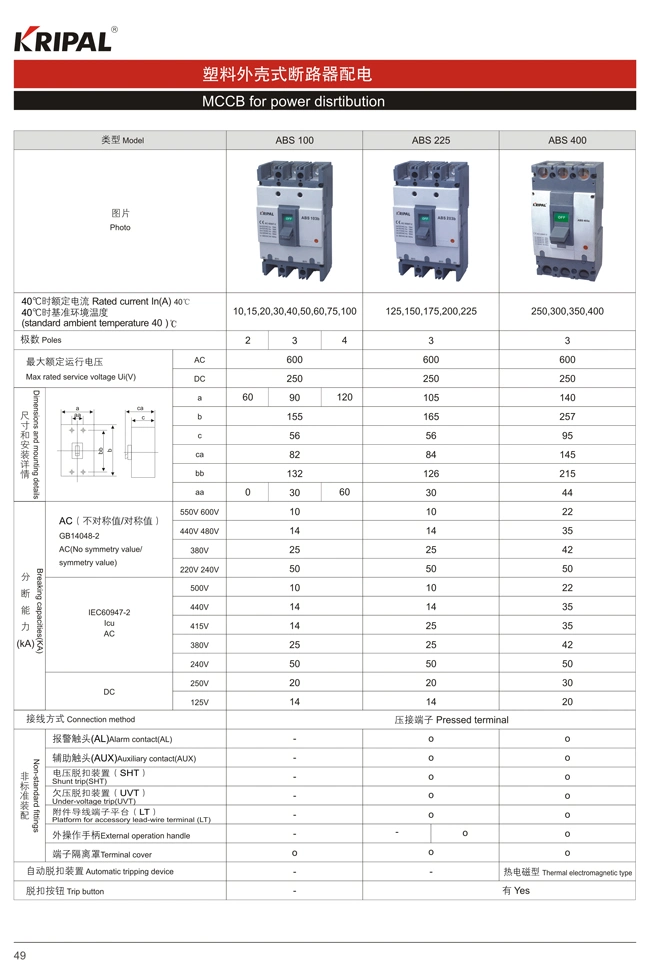 Motor protection circuit breaker
ABS/ABE series motor protection circuit breaker is suitable for industrial or commercial power and lighting with AC50/ 60Hz, rated work
ABS/ABE seriesmotor protection circuit breaker is suitable for industrial or commercial power and lighting with AC50/ 60Hz, rated working voltage up to AC600V/DC250V, rated current up to 630A.
Its a kind of economical breaker with the characters of stable and reliable function, beautiful appearance, small size and long life. It can be used for conversion of line and infrequent starting motor.
It can also be attached to install the accessories which have protection function for avoiding loss-voltage, under voltage.
The product can install connection line with front board and back board, it also can equip hand-operating apparatus or motor-operating apparatus to control in a remote distance.
Type
2pole
AB-32E
AB-52E
AB-52S
AB-62E
AB-62S
AB-102E
AB-102S
AB-203E
AB-203S
AB-403E
AB-403S
3pole
AB-33S
AB-53E
AB-53S
AB-63E
AB-63S
AB-103E
AB-103S
Frame size(AF)
30
50
60
100
225
400
Rated operational voltage(V)Ue (50/60Hz)
600
600
600
600
600
600
600
600
600
600
600
Rated insulation voltage(V)Ui(50/60Hz)
690
690
690
900
900
690
690
690
690
690
690
Rated impulse withstand voltage(KV)Uimp
6
6
6
6
6
6
6
6
6
6
6
Uitimate breaking capacity (KA,Icu AC 50/60Hz)
220V/240V
10
10
25
10
25
10
50
35
50
35
50
380V
7.5/5
7.5/5
14/10
7.5/5
14/10
7.5/5
25
18
25
30
42
415V
7.5/5
7.5/5
14/10
7.5/5
14/10
7.5/5
25
18
25
25
35
440/460V
5
5
10
5
10
5
25
18
25
25
35
480/500V
2.5
2.5
7.5
2.5
7.5
2.5
25
10
14
18
25
600V
2.5
2.5
5
2.5
5
2.5
14
7.5
10
18
22
Utilisation category
A
A
A
A
A
A
A
A
A
A
A
Endurance
Mechanical
8500
8500
8500
8500
8500
8500
8500
7000
7000
4000
400
Electrical
1500
1500
1500
1500
1500
1500
1500
1000
1000
1000
1000