KYB3-63 series miniature circuit breakers have short-circuit protection, overload protection, control, isolation and other
functions.The circuit breaker is suitable for ac 50Hz/60Hz distribution lines with rated voltage AC240/400V and rated current up to 63A.The circuit breaker is commonly used for terminal distribution protection in industrial, civil construction, energy, communications and infrastructure fields.
KYB3-63 series circuit breakers comply with IEC 60898-1 standard GB/T 10963.1.
KYB3-63 series circuit breakers are our patented products, integrating many patented technologies.This circuit breaker has the advantages of small volume, simple structure, few parts (only 30 parts, saving 15 parts than conventional circuit breaker), high quality reliability.The circuit breaker has a variety of functional accessories that can be equipped with auxiliary contacts, alarm contacts, shunt trip, undervoltage trip, overvoltage trip, overvoltage trip, and other accessories.
Patent product!
High cost performance circuit breaker!
High reliability circuit breaker!


1,Shell frame grade Current: 63A
2,Standards: IEC 60898-1
3,Rated Insulation voltage Ui: 500V
4,Rated Impulse Withstand Voltage Uimp: 4kV
5,Rated current: 1A, 2A, 3A, 4A, 6A,10A,16A,20A,25A,32A,40A,50A,63A
6,Rated voltage: AC240/400V (1P, 1P+N), AC400V (2P, 3P, 4P)
7,Rated frequency: 50Hz/60Hz
8,Electromagnetic trip characteristics: C:(5~10)In,D:(10~20)In
9,Number of poles:1P, 1P+N, 2P, 3P, 3P+N, 4P
10,Unipolar width: 18mm
11,Rated short circuit breaking capacity: 6kA
12,Reference temperature: 30ºC
13,Utilization Categpry: A
14,Mechanical life: 20,000 Cycles
15,Electrical life: 4000 Cycles
16,Isolation function
Break up the instructions
The green sign in the inspection window indicates that the contact is in a disconnected position
17,Wiring
Wiring capacity: 1.5~25mm² conductor
Wiring screw: M7, maximum ultimate torque: 2.5N.m
18,Protection level: IP20
19,Incoming line: incoming line can be up or down
Rated current In(A)

Overload trip feature

Electromagnetic trip action current(A)

1.13In agreed non-trip time H (cold state)

1.45In agreed trip time H (hot state)

In≤63

1

1

C:(5~10)In
D:(10~20)In

In>63

2

2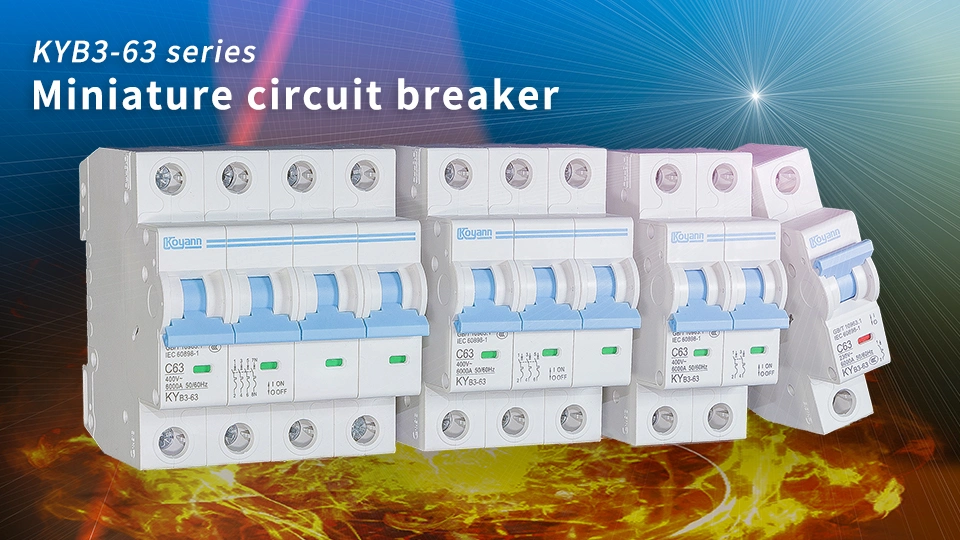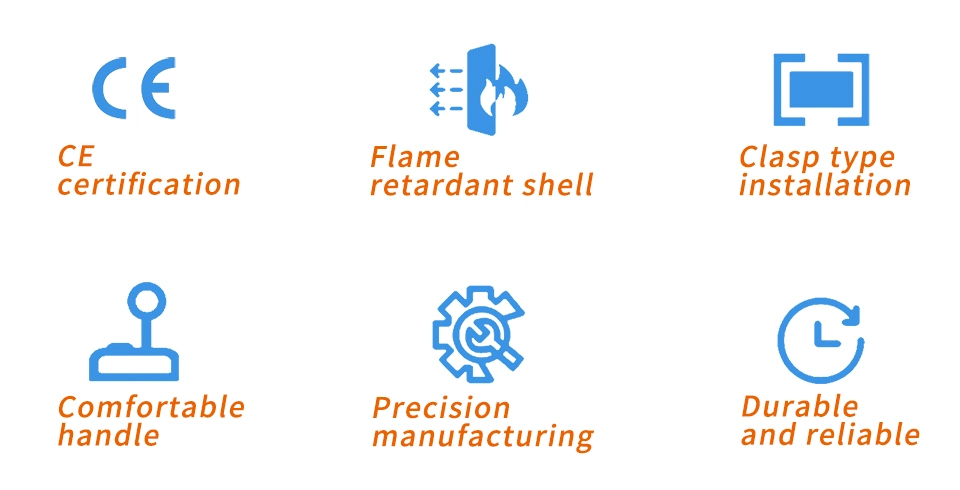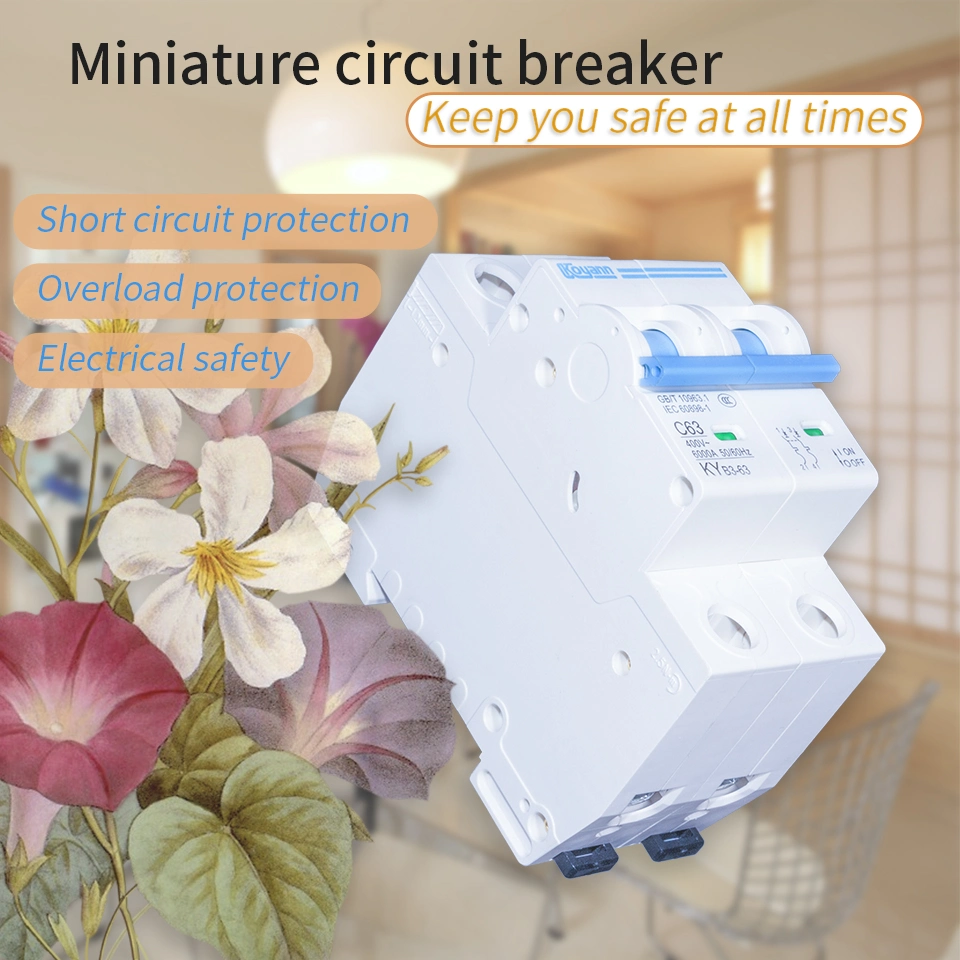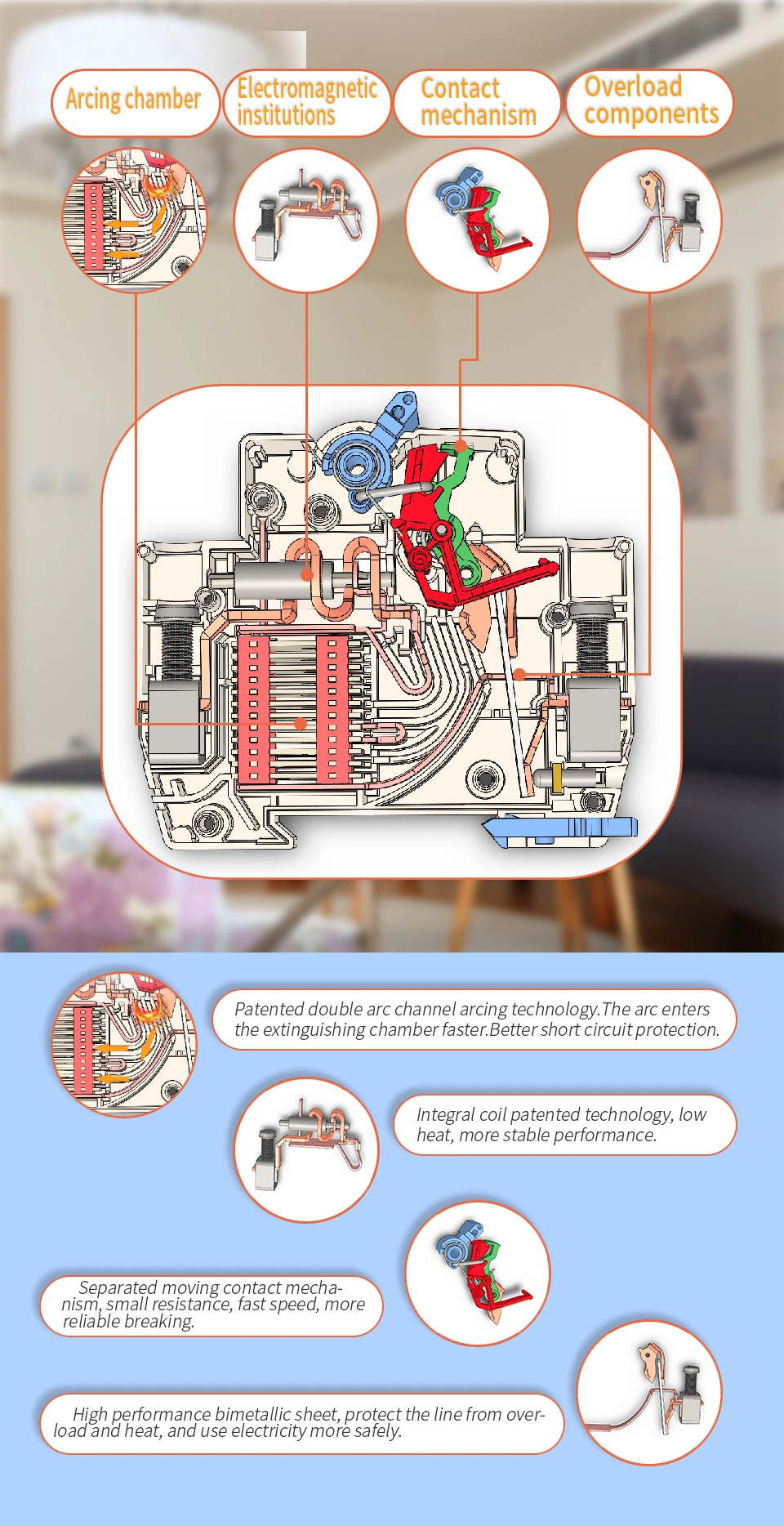 Reliable performance and stable quality
KYb3-63 SERIES MCB products comply fully with IEC 60898-1.The internal conductive parts of the product are all made of
silver-plated T2Y2 copper, the outer shell is made of heat-resistant and flame-retardant PA66, and the contacts are made of AgC5 silver graphite.Kyb3-63 products have reliable performance, exquisite production technology and good quality consistency.
Advanced design, simple structure
The KYB3-63 series circuit breakers are integrated with a number of patented technologies, among which the integrated coil design, multi-function magnetic yoke design, multi-arc channel arc extinguishing chamber and so on are all industry-first designs.We have made a radical optimization of the internal structure of the circuit breaker.The internal structure of the KYB3-63 series circuit breakers has been greatly streamlined through a series of original and advanced designs while ensuring product performance.The number of parts of the product is only 30, which is 15 fewer parts than the conventional miniature circuit breaker products.The product has only 3 welding spots, 5 less than the conventional product.Every time you remove a part, you remove a factor that affects the consistency of the product.Each reduced solder joint reduces the risk of production quality and also improves the production efficiency of the product.Therefore, KYB3-63 series circuit breaker is a high quality circuit breaker with high reliability and quality stability.
Good quality and cheap price
Through various optimization design of the circuit breaker, our circuit breaker has the following characteristics:
1. The number of parts of the product is reduced, which is 15 parts less than conventional circuit breakers.The reduction of the number of parts not only reduces the material cost of the product, but also greatly improves the assembly speed and production efficiency of the product.
2. The welding points of circuit breaker are reduced from 8 to 3, and the riveting points are reduced from 4 to 1.The reduction of welding points and riveting points not only reduces the quality risk of the product, but also improves the production efficiency and reduces the production cost.
3. Improved copper utilization rate of circuit breaker products.With the reduction of welding points and the optimization of
structure, the copper material utilization rate of the product is improved, thus reducing the use amount of copper material for circuit breaker and reducing the material cost of the product.
Through the above multi-channel optimization design, the material cost and production cost of KYB3-63 series circuit breakers have been greatly reduced, so the price of KYB3-63 series circuit breakers is very competitive.Of course, our circuit breaker products are through the advanced design to reduce the cost of the product, this cost reduction is based on the performance of the product, and some manufacturers in the market through cutting corners, sacrifice product quality to reduce the cost of the product approach is fundamentally different.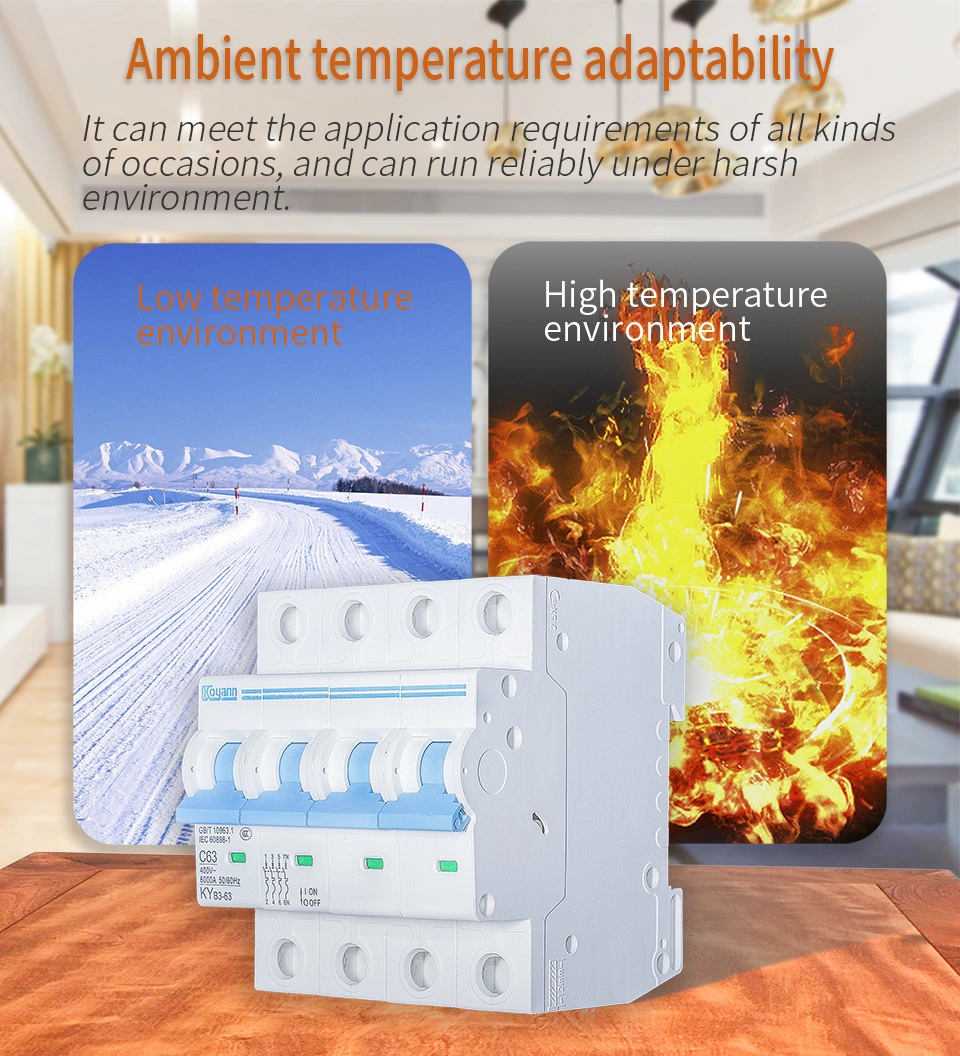 Business
------------------------------------------------------------------------------------------------------------------------------------------------
Shipping:
Shipping can delivery by sea,air,or express according to customer requirement
Payment:
1. Small order under 3000USD T/T100% in advance
2. 30% deposit and 70% before shipping or after received copy of B/L
3. L/C also acceptable
Warranty:
We provide 1 year warranty.
About us
------------------------------------------------------------------------------------------------------------------------------------------------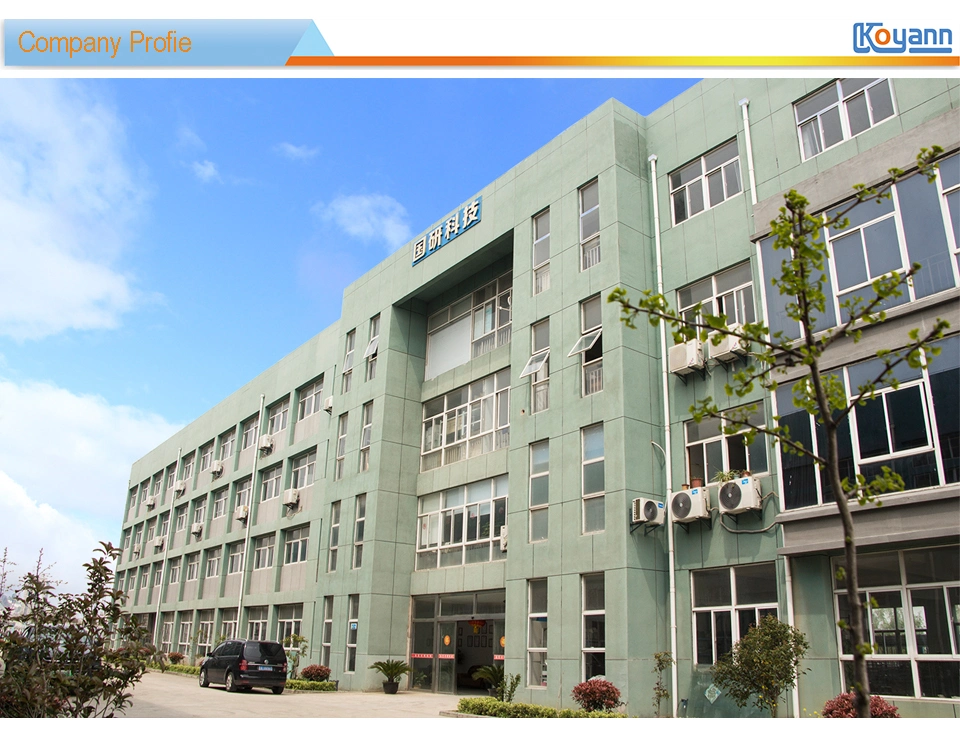 Xiamen Koyann Sci-tech Co., Ltd. is located in Xiamen, We focus on electricity safety, smart home and new energy product development, production and sales.We attach great importance to product research and development and innovation, set up a product research and development team composed of senior technical experts.After years of hard work, we have made a number of important achievements in product technology.We have developed a series of major technical innovation solutions, such as main and auxiliary multi-break point technology of circuit breakers, arc multi-channel shunt technology, contact rapid switching technology, multi-loop excitation system technology and integrated electromagnetic mechanism technology.We have successively obtained 38 national patents, and a number of patent programs are being applied.These patented technologies enable us to continuously provide our customers with cost-effective products with independent intellectual property rights.Our products have successively obtained CCC, CB, CE, CQC authority certification and widely used in domestic and foreign power distribution system, industrial equipment control, DC system, smart home and other fields.We are willing to protect the safety of users and promote the intelligent use of electricity as our own duty.Through continuous innovation, aggressive efforts to become a hundred years of enterprise.

FAQ
-----------------------------------------------------------------------------------------------------------------------
Q1.What advantages do you have?
A1.Koyann is a very professional company, we have our own technical team, our own patented products.We are able to provide you with competitive products.
Q2. What's your main product?
A2. Our products are divided into three categories, which are terminal power distribution products, smart home products and DC system products.
Q3. Could you print our own logo?
A3. Yes, Our company are available for Retail & Wholesale & OEM & ODM.
Q4. How long is the quality guarantee?
A4. 18 month warranty, our products are 100% inspection.
Q5. How long is the deliver time?
A5. It usually takes about 3 - 5 working days for sample order and 10 - 25 days for big order.
Q6. What is your payment terms?
A6. Our Payment term is T/T, Aliexpress, Western Union, PayPal, Money Gram, L/C at sight.
Q7. Any certification of your company or product?
A7.We have ISO 9001, CE, CB, CCC.
Q8. How do you ship the goods and how long does it take to arrive?
A8. We usually ship by DHL, UPS, FedEx or TNT. It usually takes 3-5 days to arrive. Airline and sea shipping also optional.