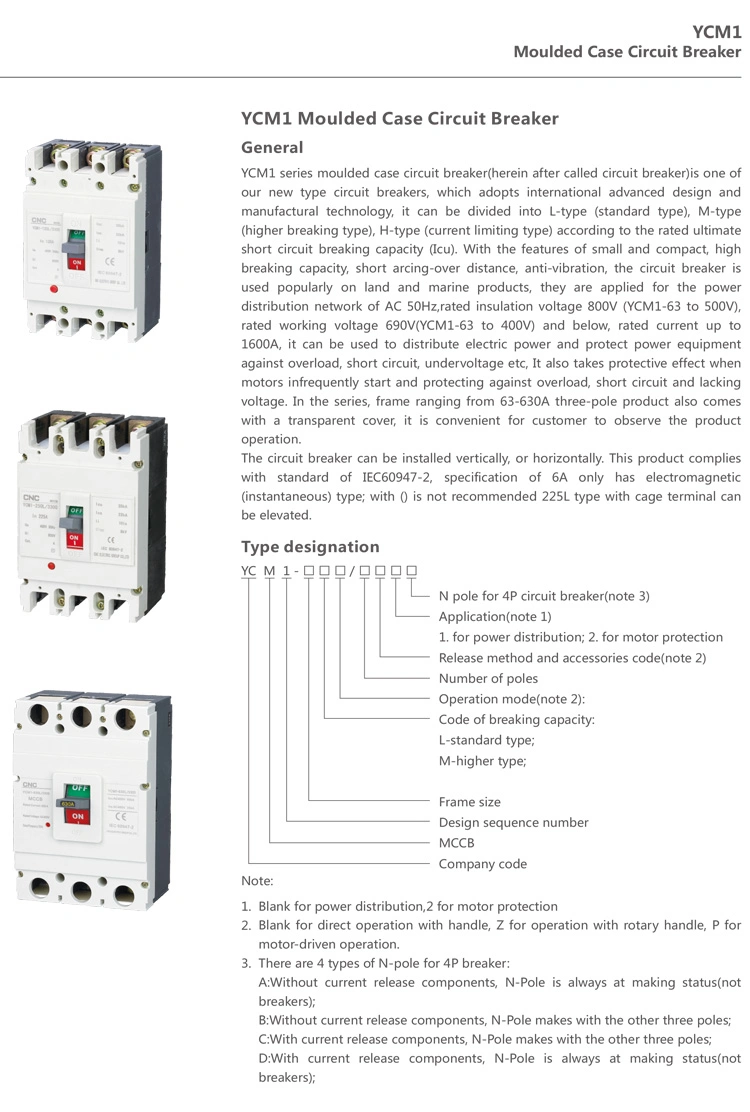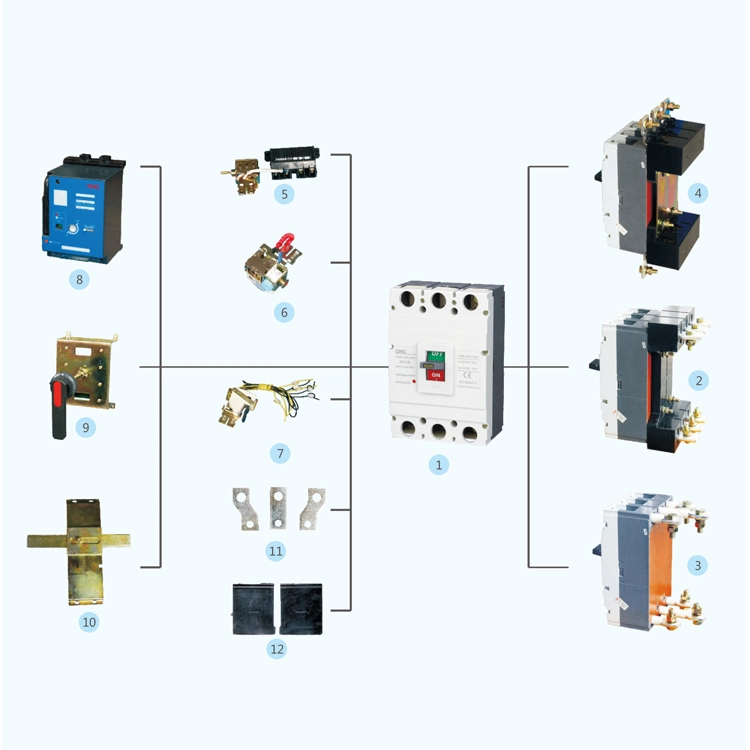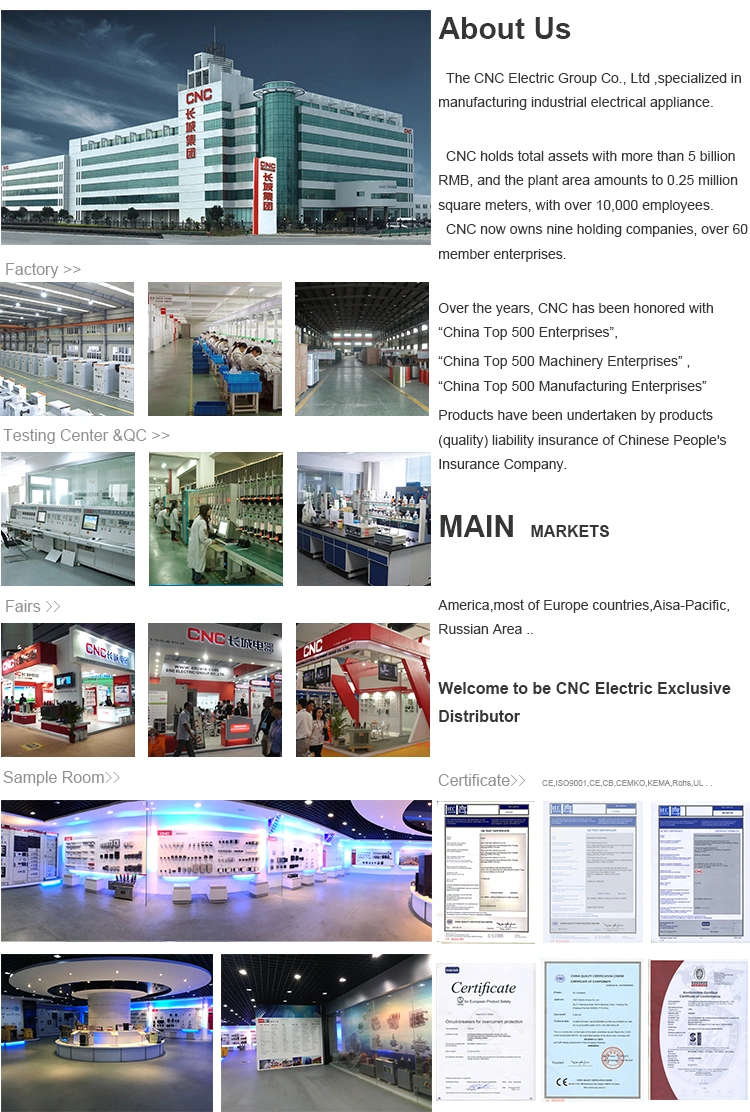 YCM1 Moulded Case Circuit Breaker/ MCCB
General:
MCCB: Moulded Case Circuit Breaker, These are using at High rating currents from 63A to 1600A, with short circuit and earth leakage protection
1.1 Electric ratings: AC 690V, 50/60Hz, 10~800A;
1.2 Mounting mode: Vertical and horizontal;
1.3 Standard: IEC/EN 60947-2
MCCB Application:
YCM1 series Circu breaker is suitable for the circuit of AC50/60Hz, rated current up to 630A, rated operating voltage 690V or less. The series circuit breaker in the distribution network, can be used for distributing the energy or electricity and protecting the circuit and power device against the overload, short circuit and undervoltage. The circuit breaker with frame rated current 400A or less can be used for protecting the motor and starting non-frequent the motor. Under the normal condition. It can also be used for making and breaking the circuit frequently. Products conform with IEC60947-2, 60947-4.
Note:
(1)No code for distribution circuit breaker, 2 represents circuit breaker for motor protection
(2) No code for direct handle operation, D represents motor operation, Z represent rotation handle.
(3) L: Represents standard type, M: Represents higher breaking type and H: Represents high breaking
1. HS Code: 85362000
2. Productivity: 20, 000PCS/DAY
3. Origin: China
4. Rated current: Up to 800A
5. Min. Order: 5, 000PCS
CNC GROUP is one of the China Top 500 Enterprises, specialized in manufacturing industrial electrical appliance, is a national large-scale enterprise integrated with R&D, manufacturing, trade and service, etc. CNC was founded in 1988, which became a nationwide non-regional enterprise group in 1997. It mainly deals in high-low voltage electrical equipment, whole set, instrument and meters, explosion-proof appliances, building electrical appliances, power transformers, with more than 100 product series and 20, 000 specifications. Meanwhile, its commercial fields also cover real estate, investment, energy, logistics, information and other industries.
CNC holds total assets with more than 5 billion RMB, and the plant area amounts to 0.25 million square meters, with over 10, 000 employees. CNC now owns nine holding companies, over 60 member enterprises, 1, 000 cooperative units, 600 domestic sales companies and 6 foreign representative offices. What's more, the marketing network covers not only domestic market but also 60 foreign countries and districts. The annual turnover reaches over 10 billion RMB on average, which ranked "China Top 500 Enterprises".
Over the years, CNC has been honored with "China Top 500 Enterprises", "China Top 500 Machinery Enterprises", "China Top 500 Manufacturing Enterprises", "China Top 100 Industrial Electrical Enterprises", "China Top 100 Growing Enterprises", "Advanced foreign exchange-earning enterprises", "Vice President of Branch Units of Low-voltage Electrical Appliances of China Chamber of Commerce for Import and Export of Machinery and Electronic Products", "Advanced Unit of Township Enterprise Management", etc...
CNC has obtained three management system certificates, including ISO9001, ISO14001, OHSMS18001. Products have obtained CCC, CE, CB SEMKO certificate. The trademark "CNC" has won "Chinese well-known trademark" for years. CNC also has won many other titles of honor as "National Inspection-free Product", "China Quality Faith and Consumer Trust Unit", "Advanced Unit in the National Brand Name Service", "National Model Enterprise of Quality and Integrity", etc.
CNC attaches great importance to R&D and improvement. The provincial technical center has been set up. CNC will keep on optimizing and upgrading the industrial structure with its active innovation thought of cooperation and development so as to provide customers with more perfectly overall solutions.
Type
In (A)
Poles
Power consumption
Ics/COS
Icu/COS
Arcing distance (mm)
Fixed
Draw-out
400V
690V
400V
690V
YCM1-63L
6-63A
3
20
25
18/0.3
-
25/0.25
-
50
YCM1-63M
25
30
30/0.25
-
50/0.25
-
YCM1-63
4
33
40
YCM1-100L
10-100A
3
35
40
26/0.25
-
35/0.25
-
YCM1-100M
40
50
30/0.25
-
50/0.25
-
YCM1-100H
43/0.25
10/0.5
85/0.2
20/0.3
YCM1-100
2
26
33
30/0.25
-
50/0.25
-
4
53
66
YCM1-225L
100-225A
3
5
65
26/0.25
-
35/0.25
-
YCM1-225M
60
75
-
50/0.25
-
YCM1-225H
10/0.5
85/0.2
20/0.3
YCM1-225
2
40
50
30/0.25
-
50/0.25
-
4
80
100
YCM1-400C
225-400A
3
80
100
20/0.25
-
35/0.25
-
100
YCM1-400L
30/0.25
-
50/0.25
10/0.5
YCM1-400M
90
110
40/0.25
-
-
-
YCM1-400H
50/0.25
10/0.5
100/0.2
20/0.3
YCM1-400
4
120
150
30/0.25
-
-
-
YCM1-63L
400-630A
3
130
180
34/0.25
-
45/0.25
-
YCM1-630M
150
200
42/0.25
-
65/0.25
-
YCM1-630H
65/0.25
10/05
100/0.20
20/0.3
YCM1-630
4
200
267
42/0.25
5/07
65/0.25
10/0.5
YCM1-800C
630-800A
3
125
170
20/0.25
-
35/0.25
-
YCM1-800L
30/0.25
-
50/0.25
-
YCM1-800M
135
190
40/0.25
-
70/0.2
-
YCM1-800H
50/0.25
10/05
100/0.2
20/0.3
YCM1-800
4
180
250
30/0.25
-
50/0.25
-
YCM1-1250
800-1250A
3
240
300
50/0.25
35/03
85/0.25
45/0.25